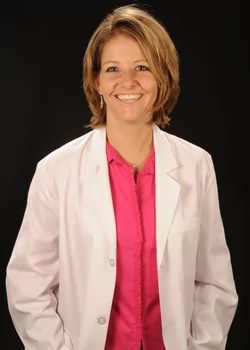 Dr. Allison Watts went into dentistry to change people's lives. Her journey in dentistry started at a young age because she was born with a skeletal growth problem with her jaw that affected her self-esteem for many years. In college, she had jaw surgery, which was truly life-changing for her and that is what inspired her to to go into dentistry so she could do life-changing dentistry for others.
After graduating with honors in 1995 from Baylor College of Dentistry, Allison moved to Midland, Texas to begin her practice from scratch. Because of her own experience, Allison has focused on comprehensive, relationship-based restorative dentistry since the beginning of her practice.
She loves guiding patients to discover their vision for all aspects of their smile, including it's health, function and beauty and then helping them create a plan to accomplish and maintain that vision.
Allison focuses on:
-first, the human being that comes into her office with their unique set of hopes, desires, concerns and circumstances.

-rebuilding and restoring teeth to their natural strength and   beauty in the most conservative and long-lasting way possible.

-the proper function of the jaw joints, muscles and bite.

-the smile and its dynamic effect on the individual's sense of well being.

-the importance of the materials we use and how they affect the body and our overall health.
Allison has accumulated well over 1500 hours of advanced training at some of the finest learning institutions in dentistry. She has attended numerous post-graduate dental programs, including advanced studies in fixed prosthodontics, implants, cosmetic dentistry and occlusion.
She is a graduate of the prestigious Pankey Institute, where she now serves as faculty. She also completed the curriculum and served as faculty at Spear Education and has completed the continuum at the Dawson Center and The Piper Education Research Center. Allison is a leader in her profession and many dentists refer to her and are her patients.
One of the things Allison enjoys most is teaching other dentists and their teams advanced techniques and skills in their personal and professional life that in turn positively affects hundreds of patients and families. Her favorite thing is witnessing and creating a-ha moments for people. She is a certified coach and a leader in the work of the Ford Institute of Integrative Coaching as well as a certified John Maxwell Coach and is now working with Amazing International as a coach and facilitator. Allison is also Co-author of the best-selling book, "Faces of the New Feminine Leadership", released Fall of 2015. 
She is or has been a member of the American Academy of Cosmetic Dentistry, American Dental Association, Texas Dental Association, Academy of General Dentistry, Texas Academy of General Dentistry, and The American Equilibration Society. 
She has also been involved in several study clubs where she presents her own dentistry to her colleagues and participates in lively forums investigating and discussing the latest findings in dentistry, as well as success and failure rates of various procedures and materials.
Allison also enjoys participating in international charities, such as"Give Back a Smile" and "Smiles for Life".
Allison is the proud wife of Daniel and mother of her 2 adult children, Coleman and Lexi, She and her family now spend most of their time in Costa Rica, so spends less time in Midland these days and is so proud and honored that the practice is now being cared for by Dr. Ryan Coulon, who has taken what she started and made it even better. She enjoys nature, exercise and health, learning and teaching personal development, reading and having fun with her family.